The World Health Organisation (WHO)
has said that the most recent research on
swine flu
has shown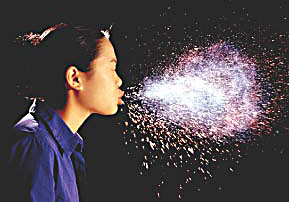 that the virus is
not caused by pigs.
Note: see box below.
The disease is now being referred to as
Mexican flu or "2009 H1N1 flu".
The
WHO
moved the pandemic alert from four to five, the second highest. The first case of what was called
swine flu
was reported in
Mexico
and its first fatality was confirmed there on
30-April-2009
The 23 month-old infant who died in
Texas USA,
in the first fatal case from the
swine flu
outbreak in the United Sates, was also Mexican. The child came from Mexico to Houston for medical treatment
[ 1 ]
The number of fatalities and people sickened by the virus continues to rise. No doubt by the time you read this article the numbers will have increased. As at
1-May-2009
the following figures were available;
Mexico:
160 deaths, 2,498 sick but only 1,311 suspected
swine flu
patients remained hospitalised. Daily admissions in
Mexico's
public hospitals suggest the outbreak may have peaked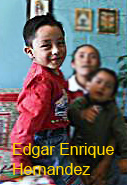 By
9 March
, the first symptoms were showing up in the
Mexican
state of
Veracruz,
where pig farming is the main industry in mountain hamlets and small clinics provide the only health care.
The earliest confirmed case
was a 5 year old boy,
Edgar Enrique Hernandez
in
La Gloria
village.
Edgar
recovered and although he still has a persistent cough, says
"I feel good."
Several hundred people from the village of 2,500 people became sick and two children died, prompting authorities to fumigate the entire village
USA: 1 death, 109 confirmed cases in 11 states;
Canada: 97 confirmed;
New Zealand: 14 confirmed;
Spain: 10 confirmed;
UK: 8;
Germany: 3;
Israel: 2;
Austria, Costa Rica, Switzerland and the Netherlands - all 1 case confirmed
Some Facts & Figures
Indonesia
is currently screening all people arriving from overseas at its major airports for flu like symptoms. There are no reported
swine flu
cases in
Indonesia
-
so far
The
swine flu
virus is designated
H1N1
– the same
H1N1 Spanish flu virus
that killed between 50 million and 100 million people world-wide in 25 weeks in 1918-1919.
For more details on the
1918 Spanish flu
click on
www.dmacDigest.com/flu1918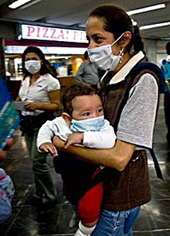 Indonesia
of course has had experience over the past 5 years with
Avian (bird) flu H5N1
. During that time
Indonesia
has had more fatalities than any other country –
137
as at
24-Sep-08
However during that same 5 year period
Indonesia
has suffered
approx 750,000
deaths from
Tuberculosis (TB)
[ 2 ]
The total number of people worldwide who die from normal flu symptoms each year is difficult to come by. However during a typical year in the
United States, 30,000 to 50,000 people die as a result of influenza viral infection
. Frequently cited numbers are
37,000 annually
.
Estimated rates of influenza-associated pulmonary and circulatory deaths per 100,000 persons
were
0.4 -0.6 among persons aged 0-49 years,
7.5 aged 50-64 years, and
98.3 among persons ages >65 years
[ 3 ]
Those figures show the most vulnerable to normal flu symptoms are the elderly, while most young children are infected by the virus.
Swine flu
– and for that matter the
1918 Spanish flu

(both H1N1 remember)
are different in so far as the
people most vulnerable are young adults in the prime of their life
– aged 20 – 40 years
Scientists believe the immune system in children and the very elderly is weakened and cannot effectively fight the virus.
The immune system of people in the prime of life, reacted, or in fact over-reacted to the virus,
causing the lungs to fill with blood from ruptured blood vessels.
In fact death was by drowning on one's own bodily fluids
Indonesia
is stocking as many as 3 million doses of
oseltamivir antiviral

drugs.
Enough for around 300,000 people.
[ 4 ]
Australia
has 8.7 million doses of
Tamiflu and Relenza drugs
and large stores of surgical masks
[ 5 ]
Where does Influenza come from ?
All flu viruses are thought to have originated from birds.
Scientists believe that to cause human epidemics, the virus has to
jump from birds to pigs (mammals)
where the genetic changes occur to enable the strains to spread to humans.
Bird flu
is unusual -
in so far it has jumped direct from poultry to humans in close contact
Swine Flu symptoms
are like regular
flu
symptoms –
fever (38 oC or more), coughs, sore throat, body aches, headache, chills and fatigue
. Some people have reported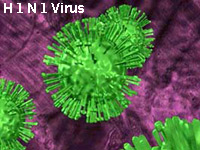 diarrhoea and vomiting
. These symptoms can be caused by many other conditions. It takes a lab test to tell whether it's
Good hygiene is the key. You can reduce, but not eliminate, the risk of catching or spreading influence by:
should not be taken unless you have symptoms.
Those drugs may not be required.
The widespread wearing of masks during a pandemic is unlikely to be effective at preventing people from becoming infected with the virus.
However they may have some limited ability to stop those already infected with the virus from spreading it
outbreak is receiving a lot of media attention world-wide. While there is need to be concerned, there is no reason to be alarmed at this stage. Remember
which has yet to become anything like a pandemic.
"Influenza pandemics must be taken seriously precisely because of their capacity to spread rapidly to every country in the world,"
"The biggest question is this: how severe will the pandemic be, especially now at the start,"
Chan said. But she added that the world